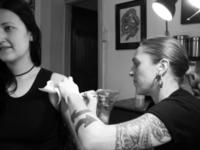 Today was such a brilliant gorgeous day to get my goal reward. I know I haven't quite made it to my WW Goal Weight but I am hovering around 75kg as my naked weight and that feels so awesome. I am really comfortable at this weight now but will continue until I reach my WW Goal. Then I'll focus on maintenance.
The photo above shows the amazing Megan Oliver from
Inner Vision Tattoo
(Surry Hills, NSW) working on my arm.
So does it hurt!? I can seriously not descibe the sensation. It's not painful at all. At times it felt like she was drilling into me but that was for a split second and caused by the vibration of the instrument. For an hour after, it felt like a burning sensation but then the feeling was gone. WOW. Would I do it again? Absolutely but when the time is right again.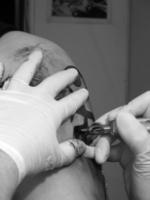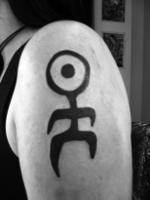 This symbol marks my journey which started many years ago and will continue. The journey will never end. The meaning of the symbol? The head represents the sun (light) and the body (woman/man). The symbol is also the logo for one of my favourite artists of all time,
Einsturzende Neubauten
. I discovered them when I was very young and I have been following their music ever since. They represent the very essence of individual and creative expression. It reminds me never to give up on my own dreams and passion.
Okay, we're off to the hospital again now. I start my new job tomorrow and I'll need to go to bed early. My hours are from 5am-8am so I'll be up at 4am LOL. Will catch up on everyone's posts tomorrow!